Beauty salons and spas are getting popular daily as the need for beauty services increases. If we only look at the figures of the salon industry alone, it might cross 217.12 billion USD by 2026 with a CARG (compound annual growth rate) of 6%. There are two main factors in the increase in beauty industry growth: changing lifestyles and rising urbanization.
If you want to enter the beauty industry and wants to open your salon, this will be the right time for you. But before diving into the beauty industry, there are some factors and considerations that you have to make before successfully launching your salon.
What are things to consider before opening a salon?
Before you start your salon, you must examine the following five factors. From creating a business plan and choosing the right place to build your salon step to hiring a professional team for your salon, below mentioned 5 points will help you run and manage your salon smoothly, efficiently, and accurately.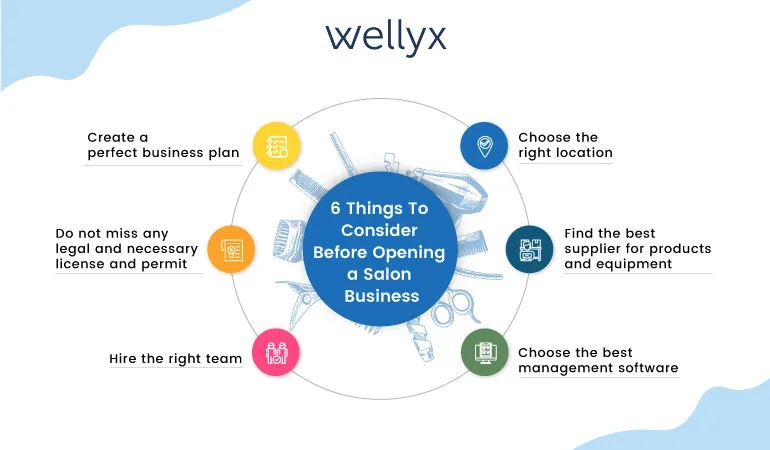 1. Create a perfect business plan:
A perfect business plan is the most important thing to create before starting a business. Because it contains every detail of your business plan and is something you will do in the future, creating a perfect business plan must be your 1st priority.
The best business plan for a salon must include the following:
Set goals for your salon
Decide the targeted audience
What services do you want to offer
Pricing
Marketing strategies
Funds required
Financial plan
Analyzing competitors
What will be your USP (unique selling point)
Once you've created your business plan for the perfect salon of your dreams, you can go on to the next step, deciding on a location.
2. Choose the right location:
After making a perfect business plan, now it's time for you to consider choosing the right location for your salon. The ideal place for a salon depends on some factors you have to look for. Such as,
Cost
Size
Local-specific permissions and licenses
Closeness to your rivals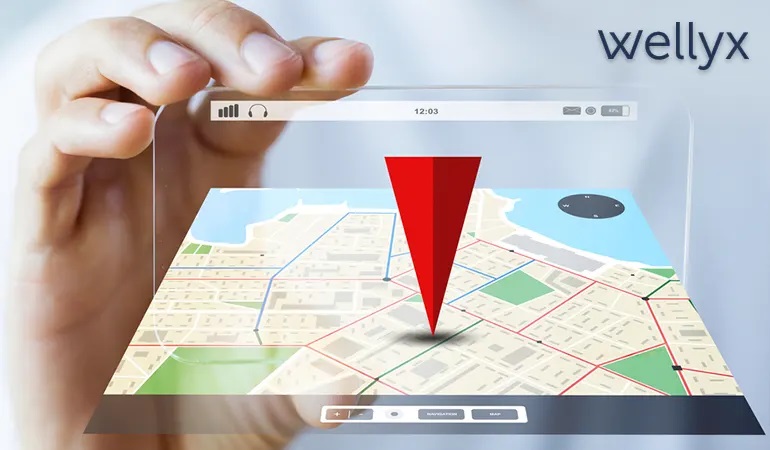 Apart from these things, there are some other details that you might consider before selecting a location for a salon. Like,
Foot traffic
Parking
Demographics
Moreover, make a detailed note of the pros and cons of several selected places, so it can help you finalize the best place from all the selected places for the salon business.
3. Do not miss any legal and necessary license and permit:
Licenses and permits are essential before starting any business, so a salon business isn't an exception. You must obtain all of the legal and necessary permits, but these things also depend on the location you choose for your salon.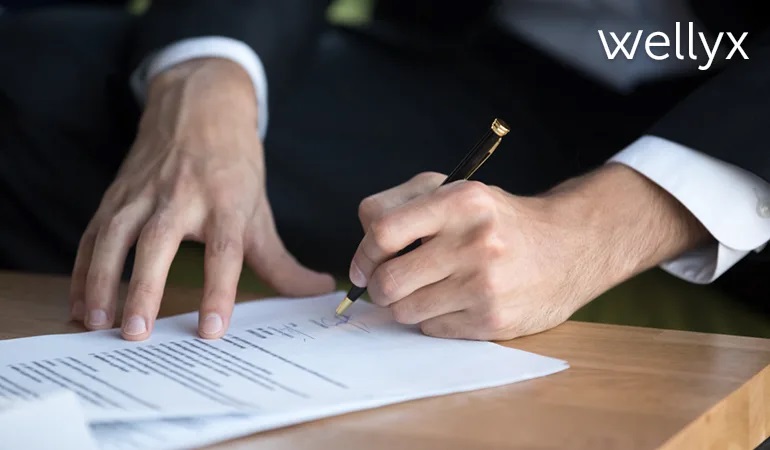 A federal employer identification number (EIN) for tax purposes and a retail seller license are prerequisites for all businesses to sell products for hairstyling and skin care.
Obtaining a cosmetology or beautician license from the state government is required before starting the salon. The entire license fee for a salon is around $12,000.
The following insurances are necessary: commercial property, general liability, professional liability, and workers' compensation.
When buying or renting a property, a certificate of occupancy is necessary. This document will include details like the purpose of the rented or purchased space if the area is suitable for renting and whether the facility conforms with all relevant building requirements.
4. Find the best supplier for products and equipment:
Running a salon smoothly is challenging because once a salon gets famous, there can be shortages of supplies, which can cause chaos in the salon. So, it's better to build partnerships with many suppliers on excellent terms to get every essential item available, like straighteners, cosmetics, hair dryers, shampoo, etc.
Moreover, before choosing the supplier, you must consider some of the following points:
How far is your supplier located, or how far is the warehouse from where you will have all your supplies?
Is your supplier trustworthy and provides suitable items per prescription and specifications? Also, is he providing items right on the decided time or not?
If you want to work with them on longer terms or a contract base business, will they be able to negotiate with you on your term? If yes, what's their reputation, and how long have they been in the industry?
Most importantly, compare prices with other suppliers. Even if you have to spend some time searching for the best supplier, it will be worth every minute of yours. Because spending time searching will help you find the best supplier for your salon.
5. Hire the right team:
Finally, you'll need to assemble a skilled group of experts to provide top-notch client care and share your vision for the salon. The success of every firm depends on hiring the right people, so spend your time finding the finest candidate for each position. (e.g., hairdressers, receptionists, nail technicians, and makeup artists).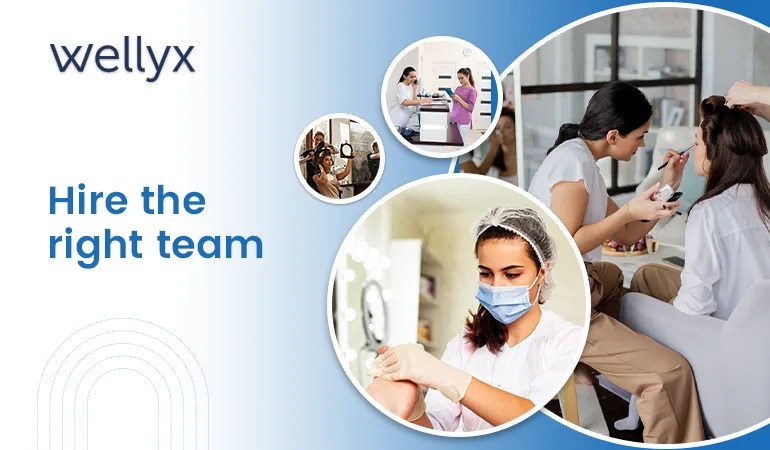 Ask for referrals from individuals you trust to discover the best hairdressers. Request their portfolios after you have a few names to see some of their past work. In a financial emergency, you may use websites to employ freelancers before hiring them full-time. After all this, you can schedule a meeting with everyone to get to know them better and determine if they are an excellent fit for your salon.
6. Choose the best management software:
After hiring a perfect team for your salon, the only thing left is choosing the right salon management software. Many companies can provide the best salon management system for salons, but choosing the right one according to your needs can be difficult.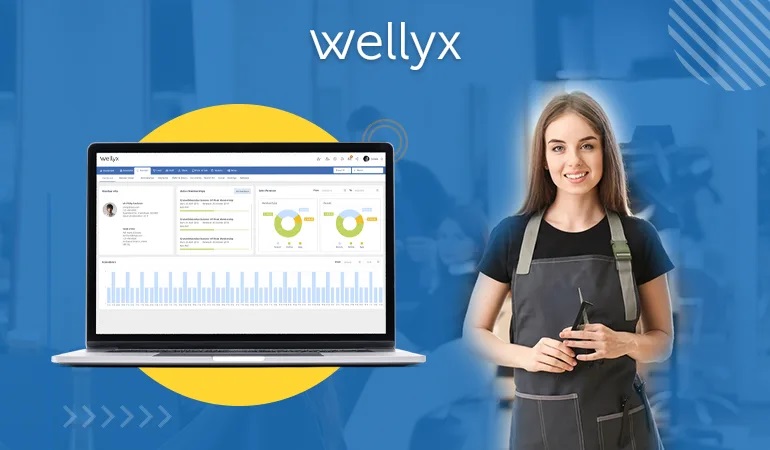 The software you choose must have the following features:
User-Friendly dashboard
Appointment scheduler
Staff supervision
Customer Portal
Smart payment processing
Customer and staff app
Memberships
And some other features of your choice.
Many companies provide a list of salon management or salon booking software, but it doesn't mean every software will hit the spot. You can choose Wellyx to customize the software according to your preferences.
Checklist for opening a salon:
Here's an opening a salon checklist business,
Make a perfect business plan
Decide the best location to open a salon
Decide what type of salon you want to make
Get all the licenses and permits
Ensure you have permission to open a business at the selected place.
Find a supplier
Make sure you are using the best existing products
Hire a professional team with expertise
Decide on salon management software
Run your business under management software supervision
Ending notes:
Get Everything You Need to Manage Your Salon.
Wellyx is an all-in-one solution to manage clients and staff. You are free to monitor all the activities of the salon through the app.
Manage staff online
Handle clients online
Automate communication
Manage appointments online
BOOK A DEMO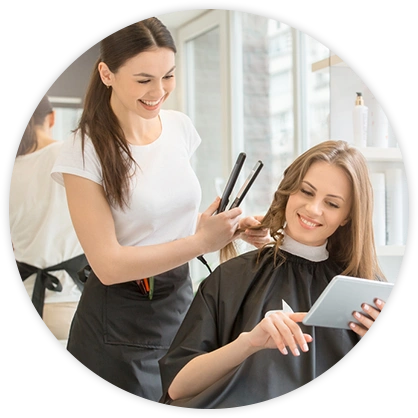 Opening a salon can be risky, but if you have done your research and are well-prepared, you can achieve anything you want. If you take care of the 5 points mentioned above, you can go through every hurdle. And also, it will make it entirely easy to open the salon of your dreams. There's nothing to wait for. Go out and make your dreams come true with your own hands.