What is Fitness Center Software?
A fitness center software is designed to have all the features and functionalities needed to run a fitness center. It covers all the features related to members, staff, booking, schedules, payment, inventory, communication, and reports. It gives you plenty of reasons to discard traditional business management methods. Get rid of messy spreadsheets or buy multiple subscriptions for each business task. A fitness center software lets you manage members' data, class bookings, alerts, and notifications to relevant members and staff attendance and tasks. The software empowers you with all the right tools to run your fitness center efficiently.
Factors to consider when choosing the software:
1. Membership Management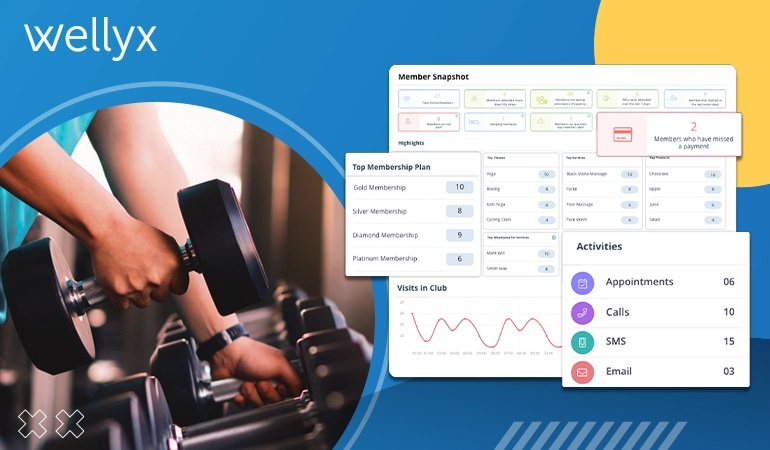 Members are the most valuable asset of your fitness center. Slight mismanagement can create problems and cause a significant dent in your revenue. Your members are your primary source of revenue, and you can't afford to go wrong here. You may already be using multiple platforms to save members' data, profile status, membership status, packages, and purchases they have made. The hassle of using multiple platforms and numerous spreadsheets is a time-consuming process. Empower your fitness center with robust fitness business software, Wellyx. A centralized database ensures quick access to member profiles and makes the necessary changes. Also, it is a cloud-based software that gives you global access to manage, update, and delete the members' data.
Add, and delete memberships
Change, update membership type
Save every detail related to a member
2

. Booking and Class Schedule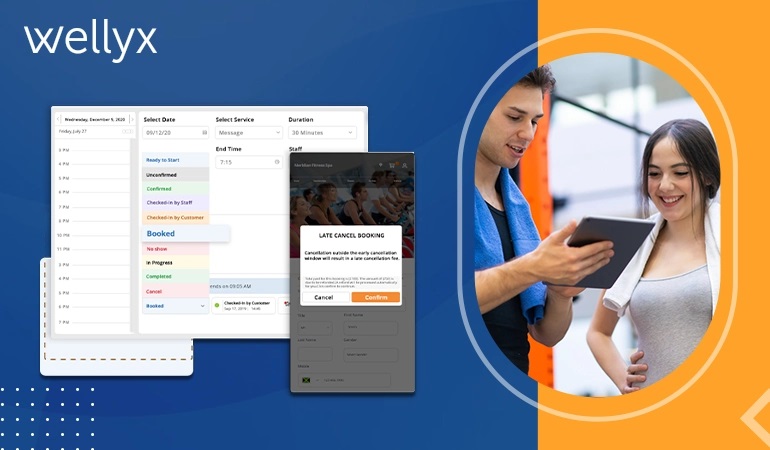 Booking and class schedule is often not the focus of a fitness center owner. The gym manager usually manages it; sometimes, they use manual methods. It includes receiving calls, adding member and class details, and manually assigning the class and instructor. A slight typo in this manual process can cause a member to miss or join a class they didn't book. The gym software system brings the solution to this problem. Wellyx brings an advanced booking and class scheduling system.
Members can access and browse the services your fitness center offers. Create a booking and make payments on one platform. When a booking is processed, the member gets a notification of confirmation. All this is made easy with a cloud-based software system that can be accessed anytime, anywhere. Wellyx, a fitness business software, also has a unique feature of the waitlist. This feature prevents the member from missing the next free slot if all available slots are booked. Members can be on the waiting list for a specific day and time. And receive a notification when their desired service is available for booking. Then he can proceed with the payment and get confirmation of the service.
3. Staff Management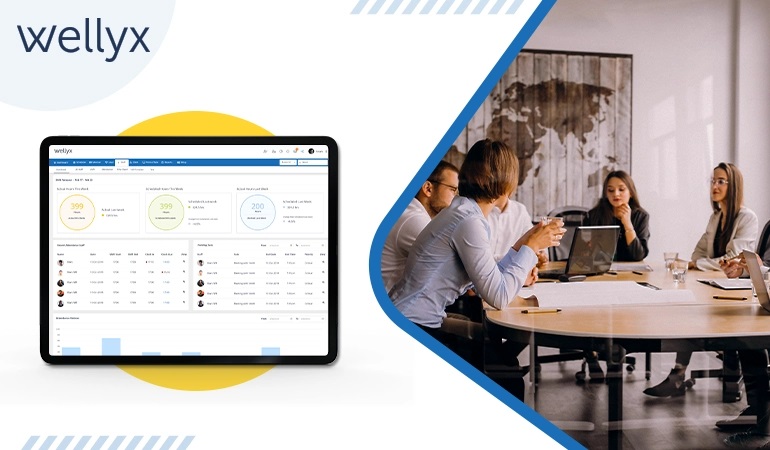 Like any other business, your fitness center will have a bunch of staff. And you need a proper system to manage them. Your staff is the first point of interaction for your customer. You must ensure they are available for the scheduled shifts and provide services to the gym members. Staff management is made easy with Wellyx. You can manage individual staff and assign their roles in the system. Also, the attendance module is integrated into staff management.
All these features allow gym owners to track and manage their staff in a way that was impossible before. From check-in to check-out time, attendance to delivery sessions. All the details can be seen from the staff management portal by just typing the staff name. Staff management works for every fitness center role, whether it is the cleaning staff or the gym manager.
4. Process and Manage Global Payments
Fitness center software allows a business owner to list all the products or merchandise online. Customers can view and browse from different categories and make purchases. The gym software system has integrated payment management to facilitate online purchases. It has several payment methods like debit cards, credit cards, and direct debit payments.
Members can save their payment details and proceed with a one-tap payment on their next purchase. Once the payment is processed, a member will get confirmation from the online store.
Accepts payments globally
Invoice generation
Direct debits
One-tap pay
5. Inventory Management
If your fitness center has a store where you sell merchandise, you can use inventory management by Wellyx. It helps you streamline the store and inventory data. Inventory management software is crucial to keep track of vendors, stock, and availability of items. If you miss this, you might not be able to provide orders to your customer. Here are the features of the inventory management system
Vendor management
Item or stock details
Integration with POS
Accessible from anywhere
6. Marketing and Sales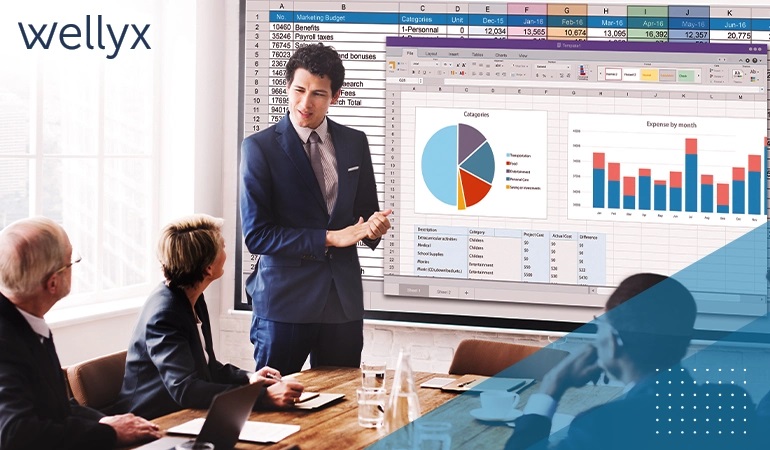 Your business goal is ultimately to increase sales and memberships and explore untapped marketing horizons. Wellyx fitness center software gives you the tools to boost your sales and membership count. It eliminates the need to buy 3rd party platform subscriptions to power your marketing. When you get every tool you need to run your fitness gym, why buy other subscriptions?
Wellyx fitness gym software provides three main marketing channels you can use to catch the attention of potential members.  Email marketing is one of the most effective marketing tactics used widely by businesses. Create and offer irresistible packages or free classes and promote them using email. The response will surely be more than your expectation. The same can be offered using SMS or the Branded app of your fitness gym.
Email Marketing
SMS Marketing
Branded App Marketing
7. Reports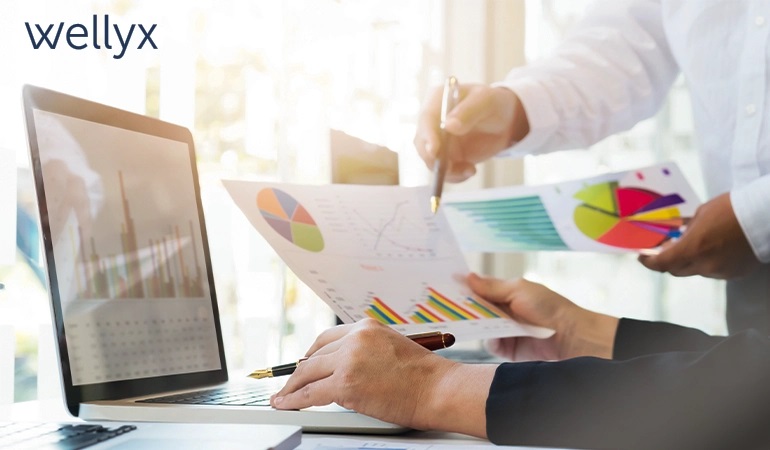 You can't be a successful fitness business owner without software that manages everything from memberships to reports for your fitness business if you are unaware of what's happening in your business. You will not be able to make informed decisions. Wellyx reporting system covers almost everything about your business. From staff, members, sales, and marketing to lead generation. You can generate reports for any aspect of your business. Just browse the reports section, and you will get all the options and set your desired time for the reports.
Here are the types of reports you can create with Wellyx.
Customer reports
Staff reports
Lead reports
Sales reports
8. Customer-Branded Mobile App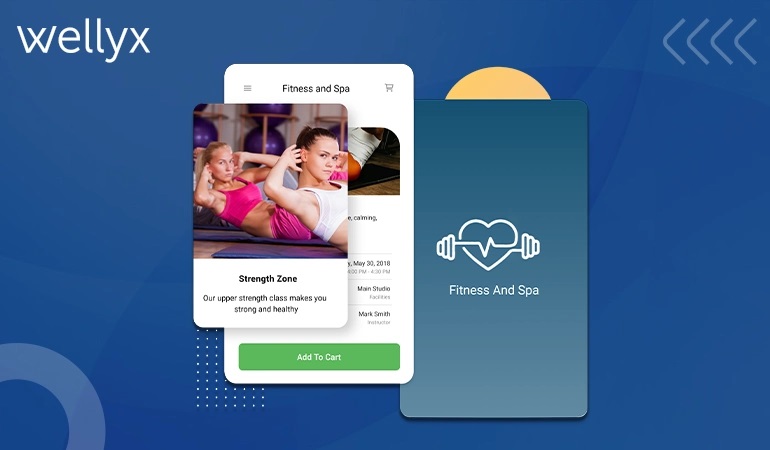 A customer-branded app allows your members to access information and services from the palm of their hands. Customers can make bookings, purchase services, make payments, cancel bookings, and more from the app. A customer-branded app follows the branding of your fitness center. Wellyx offers a custom-branded mobile app to promote brand awareness of your fitness center. It helps achieve an increased retention rate and customer satisfaction. Also, gym members are more inclined to use their smartphones for their next booking or purchase.
App offers multiple features such as profile management notifications, alerts, payments, bookings, cancellations, waitlists, and feedback. This app targets the member of your fitness center and gives them all the features they need from your gym.
Classes booking
Payments
Form & waiver
Waitlist
9. Ease of Communication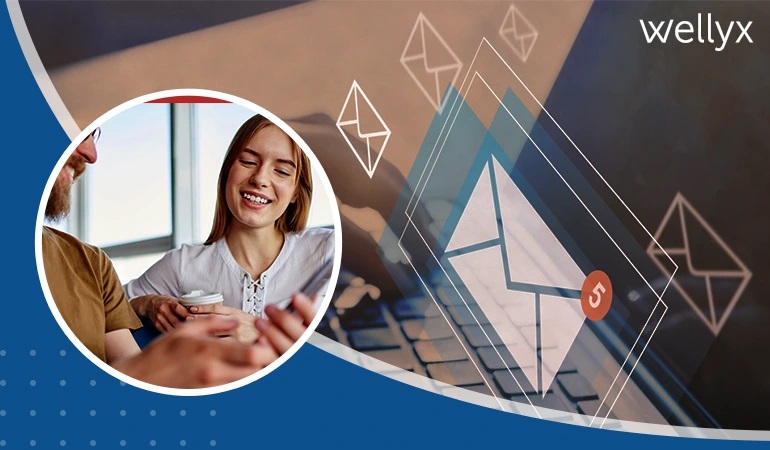 The proper communication channel is a part of the business you can't miss. A fitness center needs to have a quick communication system to deliver alerts, notifications, and information to the relevant staff or members. You can send customized messages and alerts to a member of your business. You can promote different offers and discounts using these communication channels.
Fitness club management software allows you to deliver information using emails, SMS, or app notifications. Members will get updated information every time there is a modification to their services or packages. Also, within the system, you can see the contact information for each member and send them personalized messages.
Boost Your Fitness Business and Generate More Revenue
Get in touch with Wellyx to streamline all the errors of your fitness business.
24/7 customer service
Simple payment and booking system
Automate communications
BOOK A DEMO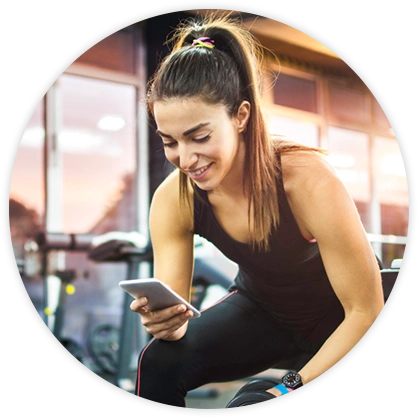 Conclusion
If you have not yet experienced any fitness business software, Wellyx will be the best all-in-one software for your fitness gym. It is a feature-rich gym software system that is improving and expanding daily. There is not a single thing you are going to miss with Wellyx. It gives you all the right tools to take your fitness center ahead of its competitors. You can experience a free demo and a trial of 90 days before making the final decision.