Keep your payments smooth and streamlined

Quick to set up, easy to use, and simple to manage, Wellyx point of sale system gives you the tools you need to manage everyday operations.
Streamline sales at checkout with integrated payments. Offer multiple options to process payments, such as cash, card, or direct debit. Syncing your card reader with point of sale system means you can offer contactless options while removing double-entry or human error in your payment processing.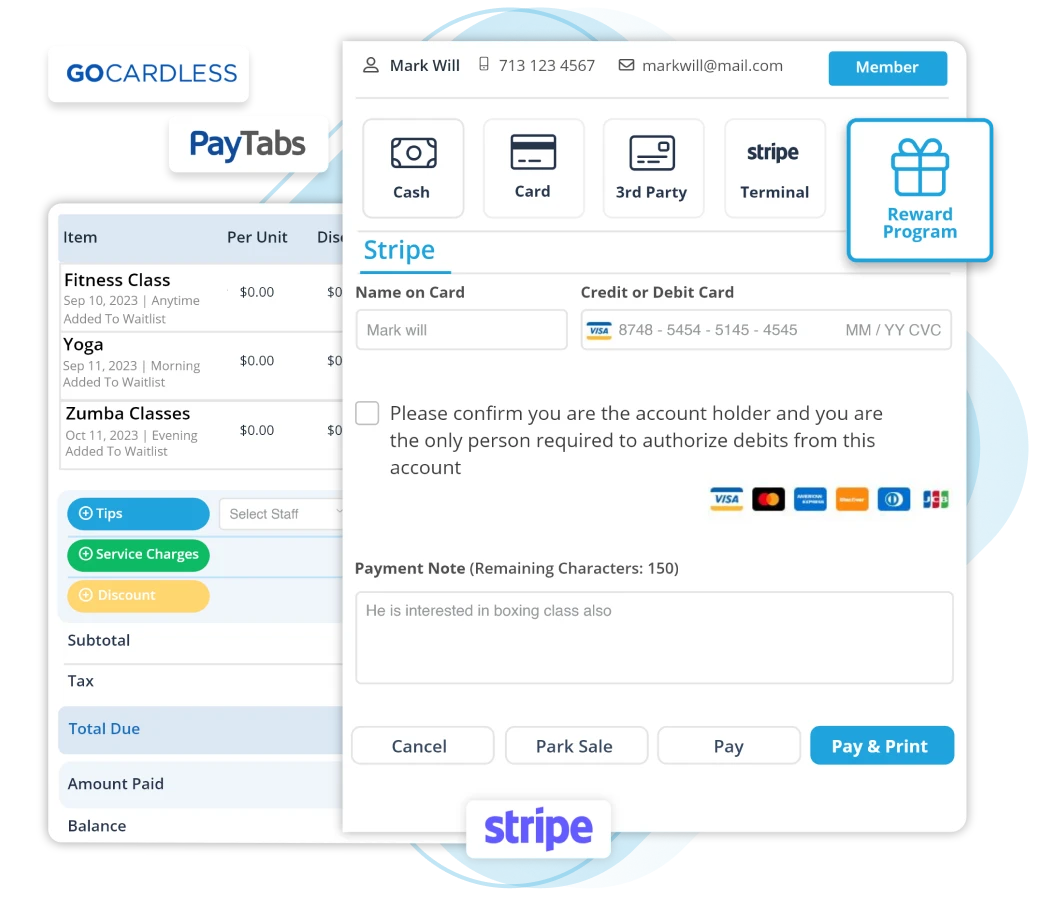 Automate transactions and reduce risks
Point of sale system for fitness and wellness businesses has several benefits, from automating financial transactions or automatic billing to reducing manual work. This software can also keep track of memberships and inventory, manage staff time & attendance, and more. These features can make running your fitness center more efficient, rationalize all administrative tasks, and reduce the risk of human error.
Refunds, discounts & tips
Apply discounts to the receipt or specific items. Let customers tip staff and add tip amounts to transactions, improving employee satisfaction only with point of sale system. Refund past purchases from any online or retail location and see benefits updated automatically.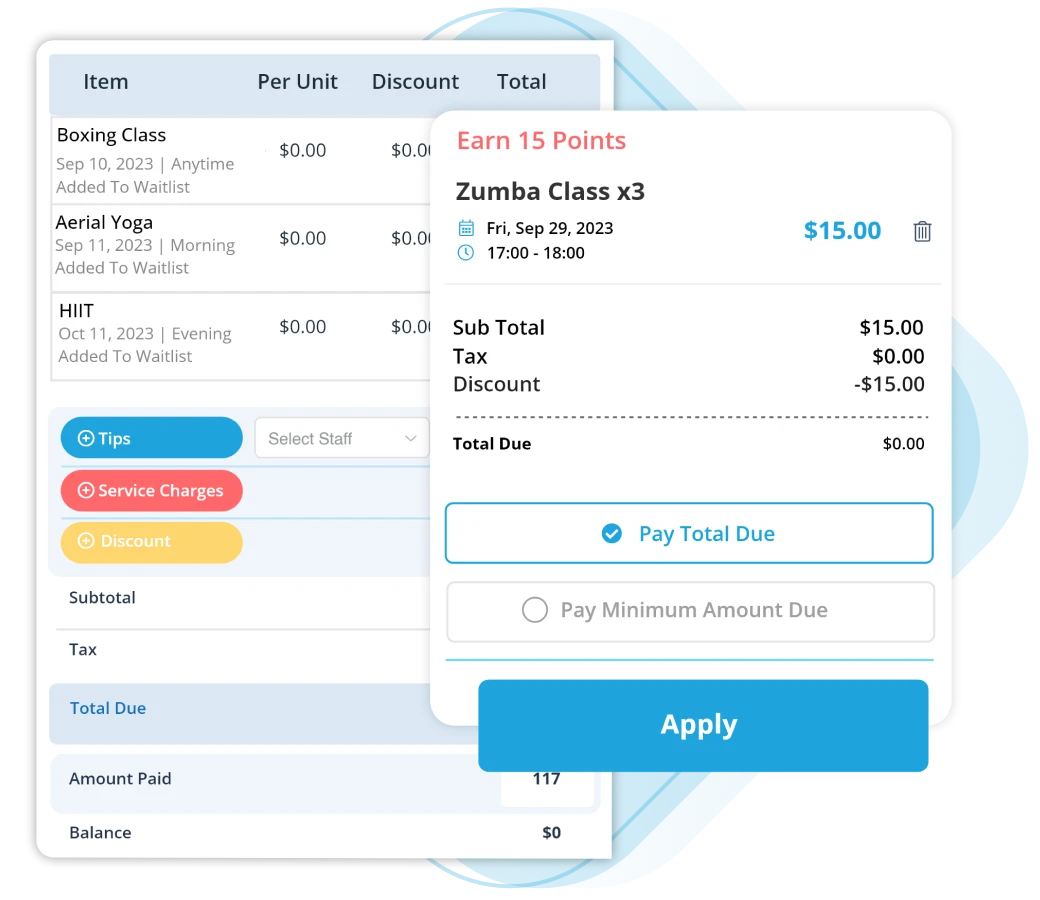 Temporarily park a sale and quickly retrieve it when the customer is ready to complete their transaction. With all-in-one point of sale system, you can easily customize your receipts to match what you need for your business. From the logo to a custom footer, make your receipts how you want them with one of the best point of sale system.
Speed up your workflow and grow high in revenue
Empowering fitness and wellness business owners
Read how some of our customers have integrated the Wellyx platform into their amazing businesses
"I wholeheartedly award it 5 stars. Without hesitation, I highly recommend Wellyx to any business seeking to elevate their booking management to new heights of efficiency and customer satisfaction."
"The Wellyx support team is always available for assisting. Everytime we call or email you guys are always available."
"Since the beginning you guys are very supportive, adaptive and very responsive."
"We are excited to see Wellyx's continued evolution as a more complete CRM (campaigns) and how this will no doubt exponentially improve our ability to engage our customers. THANK YOU"
"We have loved working with Wellyx and have found the support team very useful and Rebecca has always been on hand to help with any issues we have had. 😊"
"You guys are always great and I agree that you value our thoughts and opinions (unlike our previous software company), which is important.  :)"
"Whenever we encountered backend issues, the team promptly assisted us in resolving them. The user interface (UI) of the system is visually appealing and well-designed. Additionally, the support team is incredibly fast in addressing and resolving any issues that arise."
"The platform took me some time to learn but it is pretty user friendly."
Our experience with Wellyx has been nothing short of exceptional. As the owner of a wellness retreat, I was searching for a robust solution that seamlessly integrates all aspects of our business. The software's features are not only comprehensive but also intuitive, making daily operations smoother than ever.
Transitioning to Wellyx has significantly elevated the efficiency of our wellness center. The range of features provided is impressive, covering everything from client scheduling to billing with ease. The user-friendly interface makes staff training an ease. What truly sets them apart is the round-the-clock support. Knowing that assistance is just a call away gives us peace of mind.
Managing a luxury spa requires precision and reliability, and Wellyx delivers on both fronts. The software is rich in features, allowing us to customize workflows to fit our unique needs. The real-time data analytics have been invaluable for strategic decision-making. The 24/7 support team has been consistently responsive and proactive. Happy to be a part of the Wellyx family!
Our journey with Wellyx has been transformative. The software's versatility allows us to coordinate classes, appointments, and memberships. The automated processes have saved us countless hours, allowing our team to focus on what matters most, our clients.
Ready to upgrade to a top rated award winning software?
Get a personalized demo to see how we align with your business needs.

Here's what you can expect in the demo:
*Maximize your revenue by 63%
Do you still have unanswered questions?