Owns a salon business? Wanted to grow it in 2023? Do you want to try new things in the new year to help you grow your salon business? Does your last year (2022) also goes doing nothing for your salon business? Is it time for the new year's resolution? Before we go straight to the point where you can learn how to make your salon business a big success in 2023, you must consider some points. Such as,
What is success to you?
We'll talk about how to grow your salon business in 2023 and make it successful. However, you must first consider "what is success to you?" Unless you don't know where you want to be in 2023, doing something to gain success will not mean anything.
Because without any goal, success has no meaning, no matter how much success you get and grow your business. If you have a vision for where you want to be in 2023, that would be fantastic. Because if you ever feel lost in 2023, it will inspire you to strive hard. So, decide first where you want to be at the end of 2023 and how much success you want in 2023.
Moreover, you can measure success in different terms, like, the money you earn in a whole year or wanting to open another branch of your salon, etc.
What should you do to ensure the expansion of your salon company in 2023?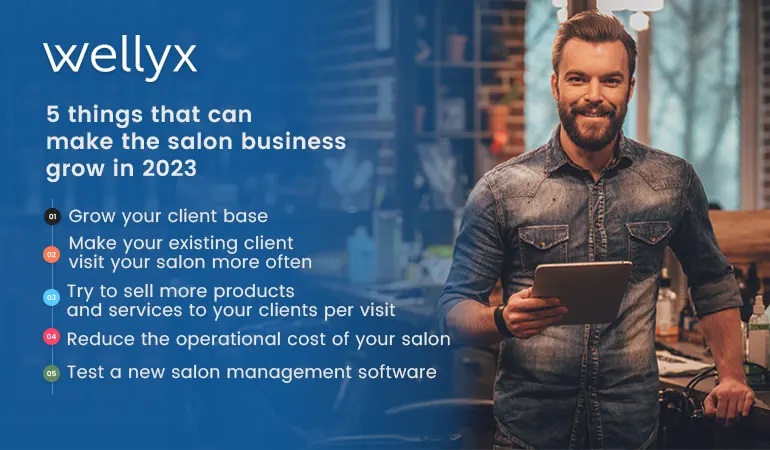 If you want to grow your business, here are five essential points that will take your business to new heights.
1. Grow your client base:
No business is successful without a good client base, and neither does a salon business. Every new customer added to your client base will directly impact the growth of your salon business. Therefore, developing a solid clientele is crucial. You require it if you want to expand your company.
There are several techniques to increase your clientele.
Add new customers to your client base by providing them with the best services, environment, and good behavior.
Make sure to make your existing customers loyal to you.
Therefore, the KPIs will be the Number of clients you deal with each month ( key performance indicators). Additionally, you must monitor KPIs every month.
KPI#1:
Number of Clients= Loyal Clients + New Clients – Lost Clients
The Number you can define according to the type of salon you have. You can also raise the number of customers in your client base by giving a target to your staff members. One staff member should have a specific number of customers daily.
2. Make your existing client visit your salon more often:
Once you have built your client base, you must determine how often your customers visit your salon. But how can you encourage more frequent salon visits from your clients? Well, there are several options. Such as,
Re-booking: Always make your client re-book for the next time or appointment. You can train your staff to ask but significantly when they come next or when they will have time so they can make a booking.
Upgrade your salon software: There's a quote, "modern problems require modern solutions." So, why not use Modern time salon management solution, which has many different features? And Sending e-mails and sms are some top notched features that Wellyx offers. With these features, you can run marketing campaigns by sending new and discounted offers to your existing clients to make them visit more often.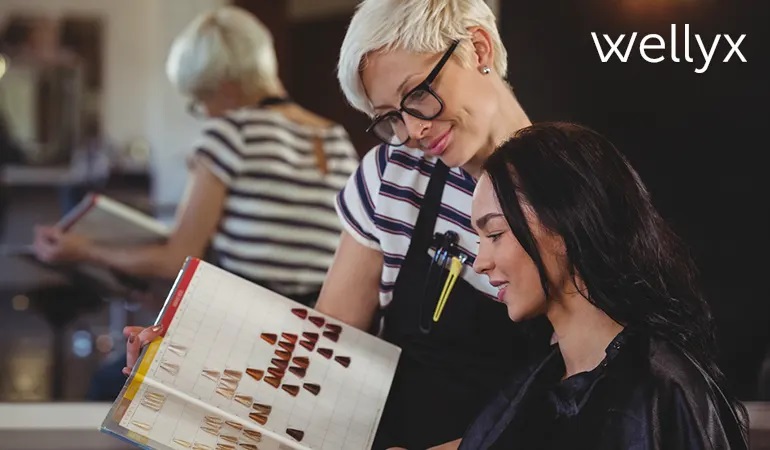 KPI#2:
Client Frequency = Number of visitors at salon/Number of total clients the salon has
3. Try to sell more products and services to your clients per visit:
Once you are done with a strong client base and a good frequency of visits by clients at your salon, you have to sell more services and products to your clients on every visit they make.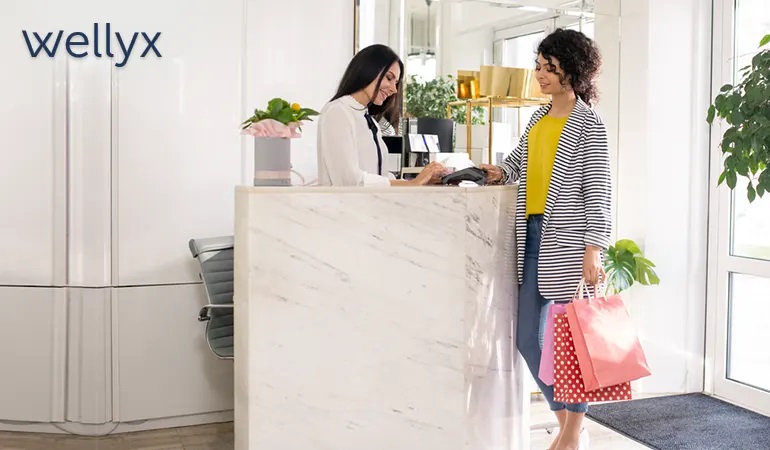 Small changes that you make to grow your business can make a huge impact on your business growth. If you only sell one or two extra services or products to your client, your business grows from 30% to 100% per client.
KPI#3:
Number of Services and Products Sold Per Visit =Total Item Sold/Number of Salon Visitors
You can do several things to sell more to the customer as per their visit to your salon.
Offer add-on services: 1st, ensure you have many easy and fast services so you can add them during the appointment and customers do not have to wait much longer. For example, if you own a hair salon, you might provide your clients with a deep care treatment or even a color glossing service as an add-on service.
Offer a wide range of shopping options: This might be the best and easiest way to increase sales. Suppose you give a haircut to one of your customers and want to sell them your product. You can tell them the condition of their hair, like how bad they are. Then you may provide them comparable goods with various brands at various rates. You can categorize products such as premium hair care lines, standard quality care lines, stylish care lines, budget care lines, etc.
Sell salon products proactively (in a non-sales way): Well, indeed, many salon owners aren't comfortable selling their products because they believe they are stylish, not salespeople. You don't have to sell them products; you must tell them about the product you use while providing them services.
4. Reduce the operational cost of your salon:
Growing your top line is the healthiest and most sustainable approach to expanding your business. Finally, it indicates that more customers are visiting your salon and spending more for your products and services. It signifies you're adding genuine value because the profit matters the most to you at the end of the day.
Every salon will be different. However, this is at least a place to start when figuring out how profitable your salon is. You may increase your profit margin by growing sales or decreasing costs.
KPI#4:
Salon Profit Margin (%) =(Total Income – Total Costs)/Total Income
Moreover, even if your company is doing well and increasing sales year after year, you should regularly examine your costs to ensure you're getting the most out of your investment.
5. Test a new salon management software:
The best way to enhance the business is to increase the satisfaction of customers, and customer satisfaction comes from better services, experience, and easy ways to do things. You can provide all these things by only using the best management software for the salon.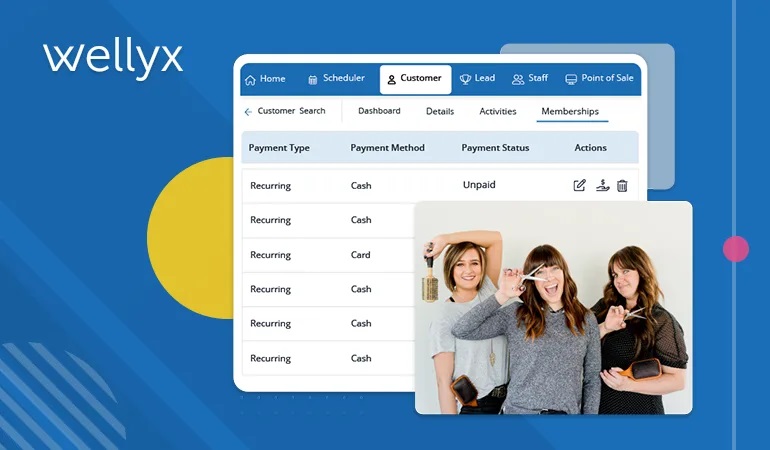 KPI#5
Wellyx = Best Salon Management Software + Best Salon Booking System + Better Customer Retention Rate
Many companies provide salon management software, but Wellyx always remains at the top of the list that you can use to enhance business growth. It provides many features you can customize according to your salon's needs.
Moreover, the best thing about Wellyx is that it can provide a client portal. The client portal is the best way to enhance the customer experience because, with the client portal, customers can book their appointments, make their payments through the portal in many different ways, buy membership subscriptions, etc.
Conclusion:
Get Intuitive, Powerful, and Cloud-Based Software to Manage your Spa.
Enhance your spa with all-in-one and simple software with attractive features to handle all the appointments and bookings online.
Increase productivity
Automate operations
Personalized guest experience
BOOK A DEMO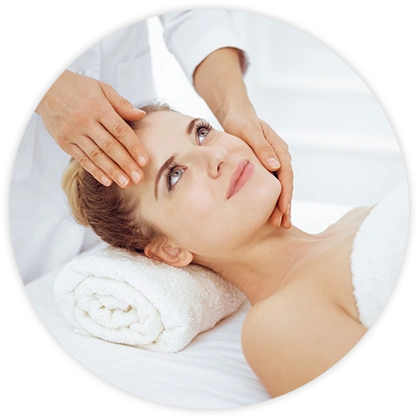 2023 has started, so you must prepare before making a new year's resolution about your salon business. Think carefully about what you can do to grow your salon business. And be more confident in the ways you choose to enhance your business. Define your vision, set your goals, decide which path you think will grow your business, and stick to your goal.