Fitness and wellness are two major industries in the world. These are well-reputed businesses having millions of customers. The fitness industry provides various health benefits, including gyms, salons, spas, massage, and sauna treatment centers. Fitness and wellness management gives many facilities to its clients. They provide a great environment at their centers. People love to join this industry because it gives them health-related benefits. It is very beneficial to join fitness clubs because it makes you strong and active.
Why it is Important to Have Software for Business?
The management of clubs is responsible for hiring professional and experienced trainers for the clients. The trainers must know the equipment and diet plans and provide innovative ideas for the body.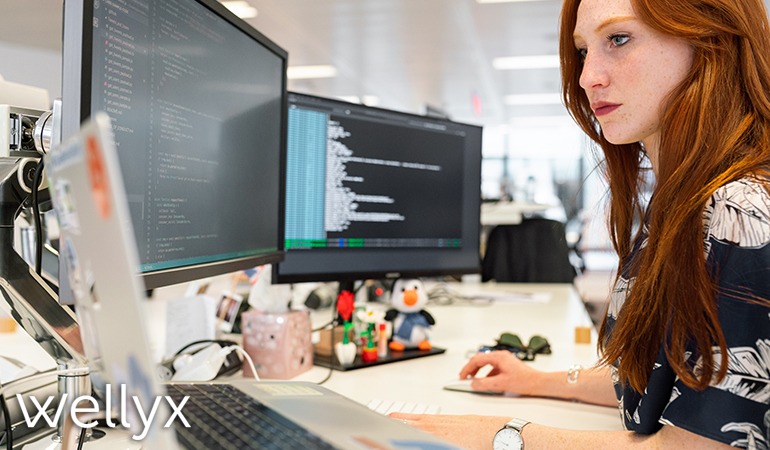 The fitness industry has been revolutionized in the modern world. This business is now available online. If you are the fitness centre owner, you are responsible for managing all the bookings daily. Making appointments, point of sale, having stock details, and creating a list of clients is your job to supervise. Now, there is a way to manage all these on one platform, which is fitness management software. The software for the management is available on both iOS and Android platforms. It is a user-friendly and efficient tool for fitness centers.
Business owners have invested much in improving the fitness management system because it provides them with many features to manage the entire system of the clubs. There is many fitness business software developed for fitness and wellness management. One of them is the famous Wellyx software, which manages all the club management systems.
Fitness and wellness businesses need management software that provides all the services, including protection and data integration.
What are the Qualities of the Best Management Software?
The professional IT industry has developed different software for fitness business management. They have added hundreds of features and tools to ease the staff and customers. Business owners love to buy this software for the management process. Good management software manages sales, book appointments, overlook staff attendance, and much more.
Wellyx software is the most convenient and efficient tool for clubs because it has many features, including point of sale, lead management, customer membership, promotions, and an inventory management system. Wellyx provides fantastic facilities to manage daily sales and profit. It can create charts and sheets to analyze the profit and loss.
While choosing the best fitness management software for business, try to analyze all the aspects of the business first. The fitness business needs software that helps to manage, track and analyze the accounting and managing aspects. Integrative, fast, reliable, and secure fitness software can handle millions of queries in just a second.
Wellyx management software provides terrific tools and operations for managing the entire system of the fitness centre. It has two significant departments named fitness and wellness. Both portions have different facilities for the customers. The Wellyx software is responsible for performing secure and integrated transactions because it is designed in such a way that it provides automation tools for management. The software has a point-of-sale option that enables the management to track the sales record.
How is POS Software a Cloud-Based System?
What is point-of-sale software? Simply put, it's software for retail stores. The point of sale is the time and place when a retail transaction is completed. The merchant computes the amount owed to the customer and may prepare an invoice for the customer to pay. It also helps the merchant prepare an invoice and indicate payment options to the customer. This kind of software aims to make the retail experience as seamless as possible for both the merchant and the customers.
POS software is often delivered in different models. Multifaceted superstores handle everything from rental programs and purchase orders to service programs and repair orders. These stores require specialized software and rugged hardware. These multifaceted superstores can benefit from a variety of different POS software. For example, electronic stores require a specialized software version to handle service programs and repair orders. However, even multifaceted superstores need a specialized POS.
POS software is increasingly delivered in the cloud. While traditional POS systems can be installed on a single computer, cloud-based POS systems are increasingly more flexible and can handle a mix of brick-and-mortar and online sales. For this reason, they are often available with a robust inventory management module. The downside of a cloud-based system is that you must maintain a high-quality internet connection and secure POS interfaces.
POS software is becoming more sophisticated and customizable. Many of today's best systems integrate CRM tools such as Google Analytics and Salesforce.com. Moreover, there are several other POS software options available. For example, you can integrate your business's CRM software with an integrated POS system to save time and money while also improving the efficiency of your business. So, which is the best option for you? This decision is entirely dependent on your specific needs.
What is the Main Purpose of the Sales Management Feature?
Wellyx is the best management tool for business sales. This fitness software is a technique to attract customers. People love to have all their fitness records in their hands. The software has changed the fitness business industry because it was tough to manage the club's entire system before the software development.

Sales management is the basic service that helps analyse the business's revenue. It also helps to improve sales and plan effectively to increase the profit margin. Wellyx provides a sales feature that details the gym revenue, profit, loss, and checkouts.
It has an integrated and secure transaction system for payments. People can make their payments by using their credit or debit card. The client portal is available for the customer, who provides all the details of the payments and bookings.
A sale feature is a helpful tool for the management because it allows them to have all the transactions in one place. They can access any detail by clicking on the required transaction. The fitness and wellness industry is also using the sales management option to keep records of future payments.
Wellyx is a powerful software for the management of sales because it has the capability of storing a large amount of customer data. It allows the club management to track the inventory details of the fitness centre. Wellyx software is a real-time application that provides an integrated fitness department management system.
Here are some essential points to have a sales management option:
Goal setting strategy:
The fitness software provides a sales management feature that helps set the sales team's goals. The executive can set the sales target for the staff through this option.
Full Client Description:
The sales management feature gives a complete history of customer details. You can get payment records, bookings, and appointments of customers with just a single click.
Provides Charts and Reports:

It is an automated feature that creates charts and graphs showing revenue details. These include sales, profit, and loss details. The software analyzes different tools and suggests an improvement for various options.
Discussion:
A fitness or wellness club needs management software because the entire system can be easily managed. The software for fitness businesses must have an automated sales management feature as it helps to store customers' history and creates charts to show revenue. On the other hand, the software also develops effectiveness in the sales team.
The fitness management system makes the sales process fast and more straightforward. It mainly focuses on sales targets and allows the manager to handle administration work. Sales management is the best tool for analyzing daily, monthly, and yearly sales history.