Business is not a game for kids; only intelligent people can play it. The activeness of their mind will make them business entrepreneurs. Gym owners are also those who never play hard; they play smart. It's also a fact that humans can't manage everything for so long. Gym owners also admit this after managing their gym software for so long. Now, they are looking for tools to run their gym as they want without affecting their productivity. For example, you need gym tools to onboard staff, manage membership payments, and many more. Just speed up your gym tasks and grab some productive tools for the gym. Below are the top effective tools that can help you in your fitness business:
Top-Notch Productive Tools for the Gym Entrepreneurs:
1. Calendly for Appointment Management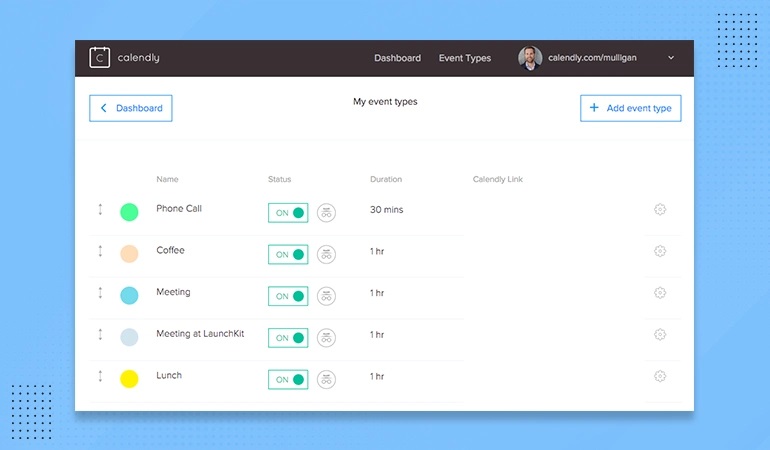 Booking is a genuine issue in all gyms. All your gym clients need to book an appointment for fitness classes. Calendly is an online appointment booking tool. The exciting thing about this appointment-fixing tool is that it will generate an alert whenever a client gets an appointment. Now, it's evident that many of you are thinking about how they can set an appointment alert. No worries, Calendly gives you a free hand to generate and manage appointment alerts in your gym. You can also embed Calendly on your website for a perfect appointment booking.
Main Features:
Online Booking of Fitness Classes
Meeting Polls
Online Waivers & Forms
Website Integration
Statistics for previous appointments
Customized Alerts
2. Microsoft Teams for Staff Management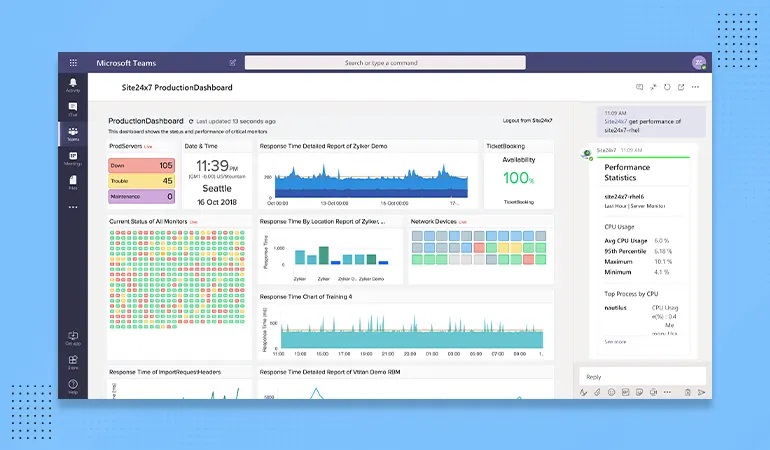 Are you worried about the management of your gym staff? Microsoft Teams is one of the fantastic tools for the gym for staff management. While your gym staff is in any corner of the studio, Microsoft Teams will help them to collaborate with you. Now, monitoring your gym staff is in the hand of a system. Manage the tasks and problems of your gym staff via the chat box in this software. Provide this option to your gym HR and manage all the gym staff in a few minutes. It will manage a bunch of conferences and business calls with one click. This gym productivity tool will eliminate the use of Google Drive and Google Docs like online tools.
Main Features:
Online Meetings for Gym Staff
No Need for Google Drive
Check the task of Each Staff Member
Access Your Gym Staff Anywhere
News and updates notification
Chatbox for Instant Messaging
3. PayPal for Payment Management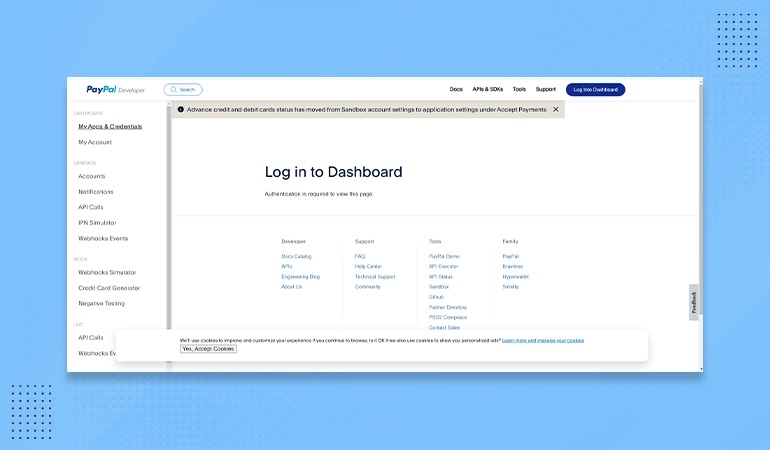 Whether you start a new business or run it from time, you must suggest a payment method to your business clients. You must require a payment management system that can provide convenience to your clients for the payment of gym services. PayPal is here to help you with the payment management of your gym. This online payment method will help you to track your client's payment. It is a tech tool for the gym, an excellent option for sending and receiving money online worldwide. This fantastic tool for the gym will generate a link through which you can send and receive money from a particular source.
Main Features:
Buy First and Pay Later
Get Rewards on Your Credit Cards
Integration with Bank
Cashback on PayPal
Offering an application
4. Monday.com for Sales Tracking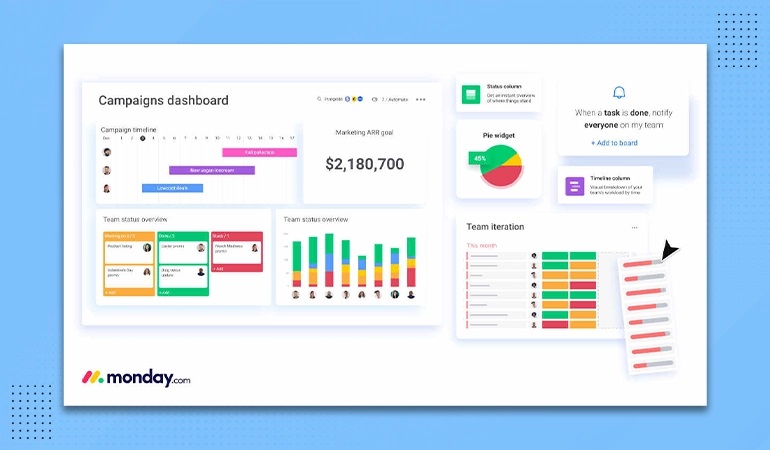 Sales are the oxygen of a business, without which a company is nothing. Gyms are also here due to the membership sales they have. Monday.com is a game-changing gym tool for tracking the sales of your gym. You have to log in to the account on this website, which will display the gym business report. It will generally behave like a CRM that can manage leads and sales simultaneously. It will manage your gym staff and can further track the current position of your business. It's because leads will be the future clients, and from that, you'll get a considerable number of sales.
Main Features:
Create a Task flow
Check the Business Sales
Market your Business
Integrated with CRM tools
Realtime online Documentation for Record
Dashboard for all business owners
5. Wellyx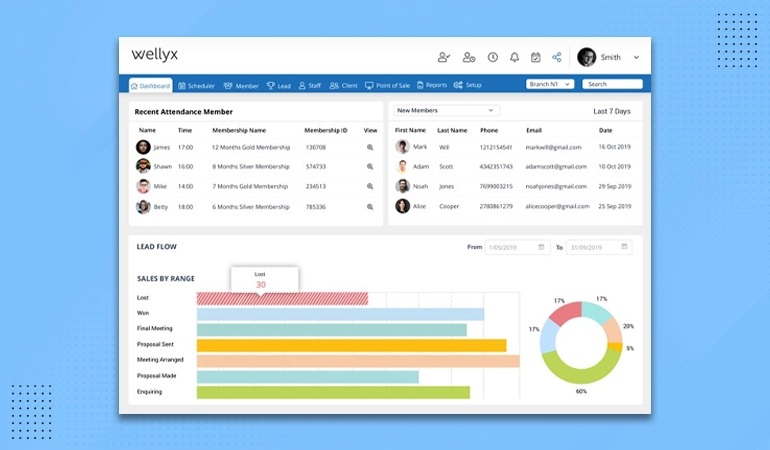 Can you manage all these gym tools at a time? Try Wellyx, an all-in-one gym management software. Whether you talk about client management or staff payroll, Wellyx is always best for them. It also has applications for staff and clients of your gym. Manage all your client's appointments with their membership package detail on a single platform. Allow your clients to pay from any gateway they want. If your worries are about inventory and gym access, then Wellyx will also solve all of them. Have you seen such an all-rounded system? Here you can get all the services that are necessary for your gym. Let's have a look at what Wellyx is offering you:
Main Features:
Client Management
Appointment & Scheduling
Payment Management
Staff Management
Inventory Management
Branded Staff & Client App
Lead Management
Point of Sale
Gift Cards
Video on Demand
Rewards
Waitlist
Reports
Live Streaming
Rewards Program
Automation
Grow Your Revenue with Gym Software By +133 %
Easily streamline all the operations of the gym
Easy to schedule all the classes
Easy to engage with customers
BOOK A DEMO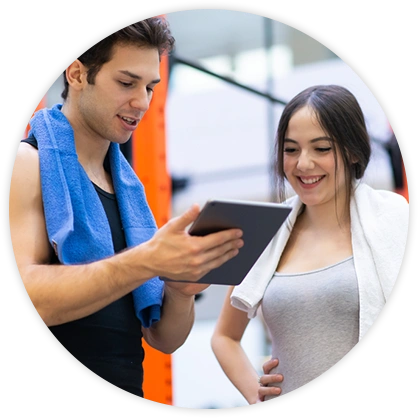 Let's Go:
Technology is always here to help you. Try to choose a single system that can manage all your gym tasks in one go. Don't manage all the tasks of your gym alone, and seek help from the above gym tools for a better experience.