The days are gone when mechanical locks and keys were used for building safety. In today's modern age, advanced access control systems are used to prevent buildings from unauthorized entry. These systems involve key cards, electromagnetic mechanisms, fingerprint and facial scanners, RFID door lock readers, and smartphone credentials. All these features make these systems effective for securing a building from unauthorized access.
Though all know the importance of installing access control systems for gyms, do you ever think of how to identify the specific security features and technology your business needs? So, here is a comprehensive guide for architects regarding access control planning and designing.
Benefits of Access Control System for Gyms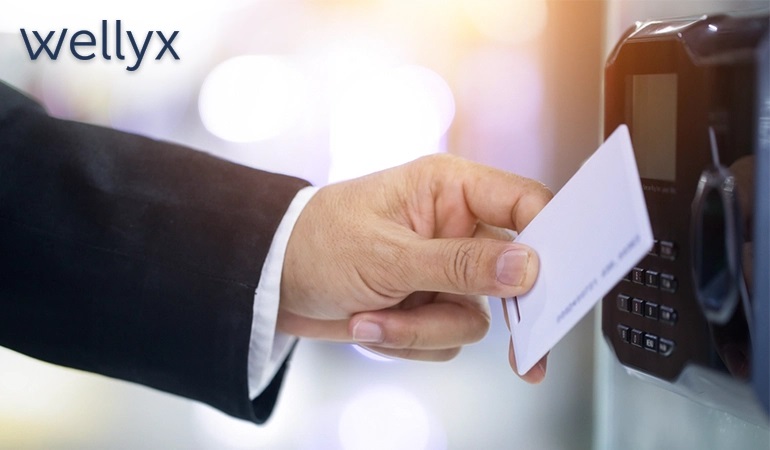 The gym business is considered rewarding and challenging at the same time. It involves many things, including checking members' and staff's attendance and many other security aspects that can keep you fed up.
However, a technological solution in the check-in-check-out system can manage these tasks within a minute. This is an excellent feature of gym management software solutions that benefit gym businesses in several ways, such as;
24/7 gym access for the gym members
Improved security measures
Better member experience
Improved customer satisfaction and loyalty level
Prevention from fraud and unauthorized entries.
Access Control System Planning Steps
For planning the access control system, the following steps can help you develop the best solution for your gym.
1. Evaluating Need
Planning a gym security system can be daunting if you are unaware of the needs of the respective business, whether a gym or a martial arts center. So, as a priority, make sure you are all aware of the particular needs of your business.
2. Threat Audit
In the planning process, it is also vital to have a threat audit for your gym facility. It always helps in identifying potential security threats and finding the appropriate solution. In this regard, here are some critical points that you should consider while auditing your building for safety issues.
Mechanical Security
If your gym openings are mechanically insecure, going for the advanced access control systems is just a waste of money. Also, you should check if the doors, frames, and hinges are in good condition and can support the advanced system.
Crime Threat
Similarly, you should also assess the crime threat you can face. However, everyone is aware of the crime level in the locality. You can also consult with the security authorities, such as the police, for security recommendations for your gym, considering the installation of this system.
Doing so will help you understand;
Can a primary access control program with the least security features serve your purpose?
Or you should invest in heavy-duty locking systems, hire security guards, and take other preventive measures while designing a gym check-in-check-out system.
Employee Theft
We often see gyms face loss of inventory and even equipment caused by employee thefts. Data breaching is also a significant issue people always cause within the premises.
3. Environmental Effects
Like the criminal threats to your security system, you should also consider the extreme environmental effects that can affect the effectiveness of your installed system.
So, while planning to design such a system, being an architect, consider which types of difficult weather conditions, including snow, flooding, rain, hurricanes, or extreme temperatures, are expectable. It will help you plan hardware for the access control system for a gym that can withstand such extreme conditions in the area.
4. Environmental Access Control Systems
Apart from having the best system implemented in your gym, it would be best if you also met Crime Prevention through Environmental Design principles to thwart crime that can occur on your property. It focuses on the below four security areas of concern for most gym owners;
Natural Surveillance
It relates to ensuring that the external grounds of your gym are free of hidable areas and make your place less welcoming for criminals.
Legitimate Access Control
It utilizes lighting, boundaries, pathways, and landscaping techniques for directing foot traffic along definite paths to keep individuals in selected areas and traffic flows.
Territorial Reinforcement
Territorial underpinning sets up clear restrictions with high shrubs and barriers to discriminate between public and private entree areas.
Maintenance
A poorly upheld property shows no one is paying for care, and wrongdoing can go unobserved. By keeping the grounds and gym building well-maintained, crooks will look for other prey.
5. Access Control Credentials Selection
Access control credentials exist in several formats to be selected following the requirements of the gym building. They include biometric and facial recognition templates, long-range and proximity RFID cards or tags, OTPs, and new-generation QR codes.
While choosing access control credentials and considering the building specifications and needs, you also have to care for the ones that consume much less processing time.
Some access control tools like fingerprint biometrics take longer processing time. At a busy place like a gym with turnstile entrances or exits, it can irritate the members. So, consider the number of people at the key times while choosing out of these credentials.
6. Ensuring Code Compliance
Different compliance codes apply in other countries regarding the installation and upkeep of access control systems. In the UK, you need to comply with the NCP 109 code, which is the design, practice, installation, and maintenance of these security systems.
Similarly, in the United States, you need to comply with the following codes regarding the installation and maintenance of access control systems;
Americans with Disabilities Act (ADA)
Health Insurance Portability and Accountability Act (HIPAA)
Sarbanes-Oxley (aka SarbOx or SOX)
Model Building Code (IBC) – Amendments, Occupancy
Life-Safety (NFPA 101) – Means of Egress
Fire (NFPA 80) – Retro-fitting, Sprinkler Systems
Accessibility (ANSI A117.1) – Operators, Credentials
Electrical (NEC NFPA 70) – Installation, Wiring, Products
Access Control Plan Template
While the features of all gym access control system plan always depend on the deployment and size, they come up with similar components. An access control plan template includes the below-listed components.
1. Preview/Introduction
This section must cover all safety guidelines and resources for the team. The introduction should detail current access control models that may influence the installation process.
2. Physical Security Measures
This is the segment where you should go into the details about physical security measures and environmental access control on the property. These details might include sensors, lighting systems, and alarms related to the access control system design in conjunction with video surveillance and access control.
Here you can also include emergency plans for conditions like lockdown or protocol implementation by law enforcement authorities.
3. Installation and Power Supply Planning
This is where the technical features start to come in. This portion maps out all the hardware supplies, power supply requirements, software details, and system support needs. Kinds of access control authentication, system monitoring process, reporting strictures, and substitutes in the event of an electric failure or Internet outage must also be acknowledged.
4. Backend Structure Plan
This includes all the arrangements and core information to tie into cybersecurity measures. Parameters for how to manage access control unit keys, dedicated equipment, computer net controls, internal access control procedures, and any role-based access control procedures are also included in this section.
Design Guide for Architects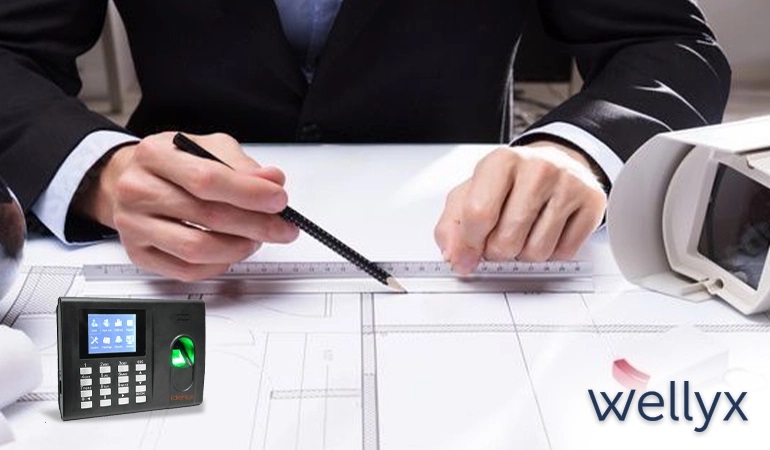 The access control design is of great importance for architects in finalizing the aesthetics and functionality of a gym building. Using the right kind of technology always increases the overall look and feel of the building. Advanced access control and security system planning are also beneficial for attracting new members and retaining existing ones.
1. Access control Systems Installation Plan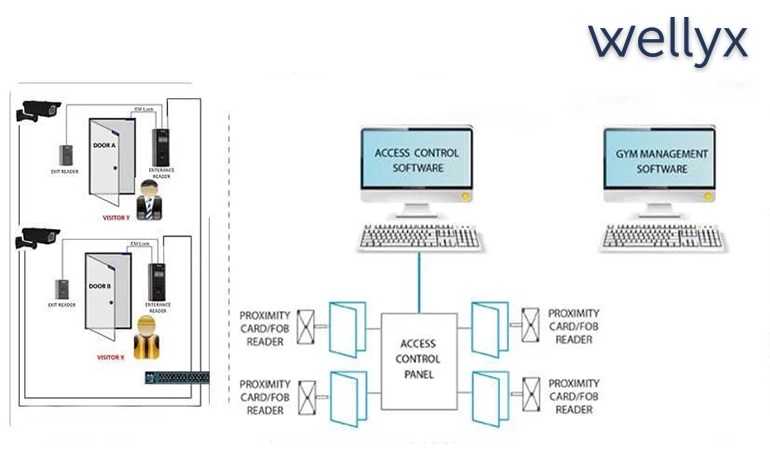 Before buying access control components, it is vital to plan for the unique features of your gym building. In this regard, the following are some essential steps that can help in the initial planning stage.
Analyzing site drawings and blueprints is always helpful when planning system components and installation areas.
Conforming requirements in writing are essential to get the best results. It would be best if you were not moving forward to install the system until you know what you will get at what costs.
Before installation, ensure all approvals from the local building code authorities.
Your access control service provider must work closely with you to understand the particular needs of your building. Also, they must ensure that the system you want to install at your gym facility complies with local laws and regulations.
2. Things To Consider for Access Control Systems Installation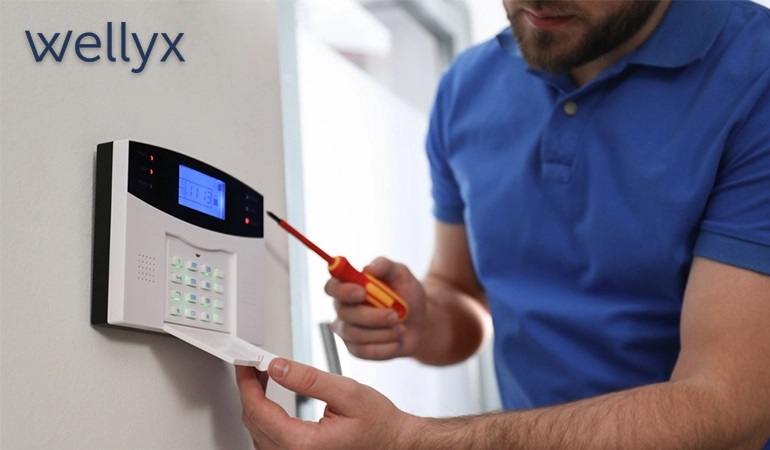 Installation of access control systems is one of the complex procedures, and one can quickly lose details if they do not have this done before. Architects should work with a trusted integrator to plan and install this system without missing anything.
In this respect, three critical points are considered while installing an access control system for gym facilities.
Cloud Based or On-Premise Servers
Nowadays, most access control systems fall among two major categories cloud-based and on-premise. On-premise systems rely on the local servers with credentials configured onsite.
On the other hand, cloud-based systems are more flexible and can be managed and configured entirely remotely. The cloud-based systems deployments eliminate onsite servers and enable management to take care of the access control systems through a single dashboard.
Furthermore, cloud-based systems are easy to back or upscale anytime you need. So, being an architect, keep this in mind while designing and installing an access control and security system. You can use our hardware by subscribing to Wellyx management software for your gym. Our subscriptions are based on usage, cost-effective, and comply with all legal codes.
Hire a Professional for Access Control System Installation
Most of the time, access control service providers provide professionals when installing the systems. However, if they allow you to go for others, why do not you get to hire a professional installer for the best practices?
However, in this regard, it is suggested to go for certified access control installers who know the particularities of your required system. They will also help you determine if;
Any existing wiring or hardware that can be reused
If your projects need a replacement or a full rip
The required place for control hubs and readers
Types of door locks needed in the system installation
Backup protocols to deal with power failure or internet outages.
A professional installer's assistance will make the installation process more accessible and may save plenty of costs regarding the hardware or wiring.
Determining Ongoing Maintenance and Update Requirements
The system's installation is just the primary part of the plan. You also need to care for recurring maintenance and upgrades. The process of maintenance and updates also depends on your choice of servers.
If you are using on-premise servers, you will need in-person maintenance. It often involves costly recurring license renewals. So, you must call a professional integrator whenever you need an update.
On the other hand, Wellyx's cloud-based system takes very minimum time for updates and configurations that will be done automatically. This also reduces system downtime and helps you ensure the latest features are functional as soon as possible.
Essential Features of a Gym Access Control System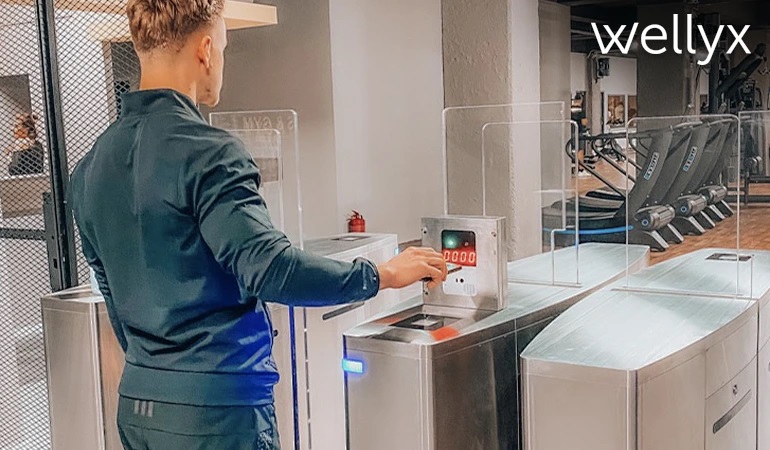 Having control over security matters and the ability to make adjustments as per the need is one of the top priorities of most businesses, and gyms are not an exception. So, here are some top features to be considered for your needed 24-hour gym access system.
1. Instant and Flexible Credentialing
Surely you do not want to make your gym members wait for key cards? So, while choosing a system, ensure it holds instant and flexible credentialing features that minimize access troubles for authorized members and employees.
Wellyx access control with mobile credentials makes it easy for system administrators to issue or revoke gym members' credentials instantly. In addition, our system can accept the credentials via multiple credentialing formats, including biometrics, card swipe, and others.
2. Granular Site-Specific Permissions
Granular site-specific permissions are essential if your gym has more than one branch or location. It allows system managers to control the particular users' access at every location. The Wellyx system can do all this remotely in the cloud.
3. Customizability and Scalability
The growing number of members and increasing business may lead to expanding the facility, which also requires you to install a customizable yet scalable access control system that can accept different credentialing sources, including 24 7 card access.
4. Easy Remote Management
Another essential feature your access control system should have is the ease of remote management. This feature is always found in cloud-based systems that make it easy for gym administrators to manage the security and member access to the building.
5. Integration of Physical Security
Following the threat audit recommendations, if your building needs physical security and an access control system, you must look for systems that can integrate both.
6. Controlled access to ancillary amenities
Suppose you need a system that supports access control at parking gates, turnstiles, garages, or elevators. In that case, you should ask your service provider regarding the controlled access for the ancillary amenities feature.
Grow Your Revenue with Gym Software By +133 %
Easily streamline all the operations of the gym
Easy to schedule all the classes
Easy to engage with customers
BOOK A DEMO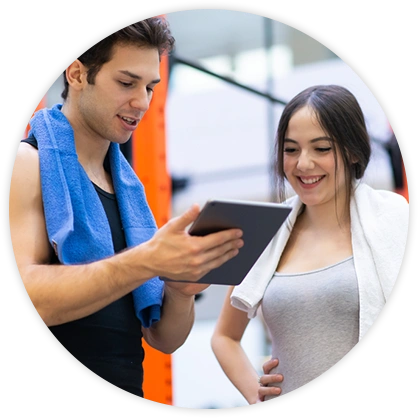 Takeaway
Ensuring gym security with the help of an original access control plan and design is essential for reaping long-term gains and profits. This guide can help your architects plan and design your needed system to add some feel and aesthetics to your gym.