Software That Makes Your Martial Art Studio Thrive
Run your martial arts studio with impeccable software that provides you with all the right tools to manage memberships, schedules, staff, leads, reports, and more.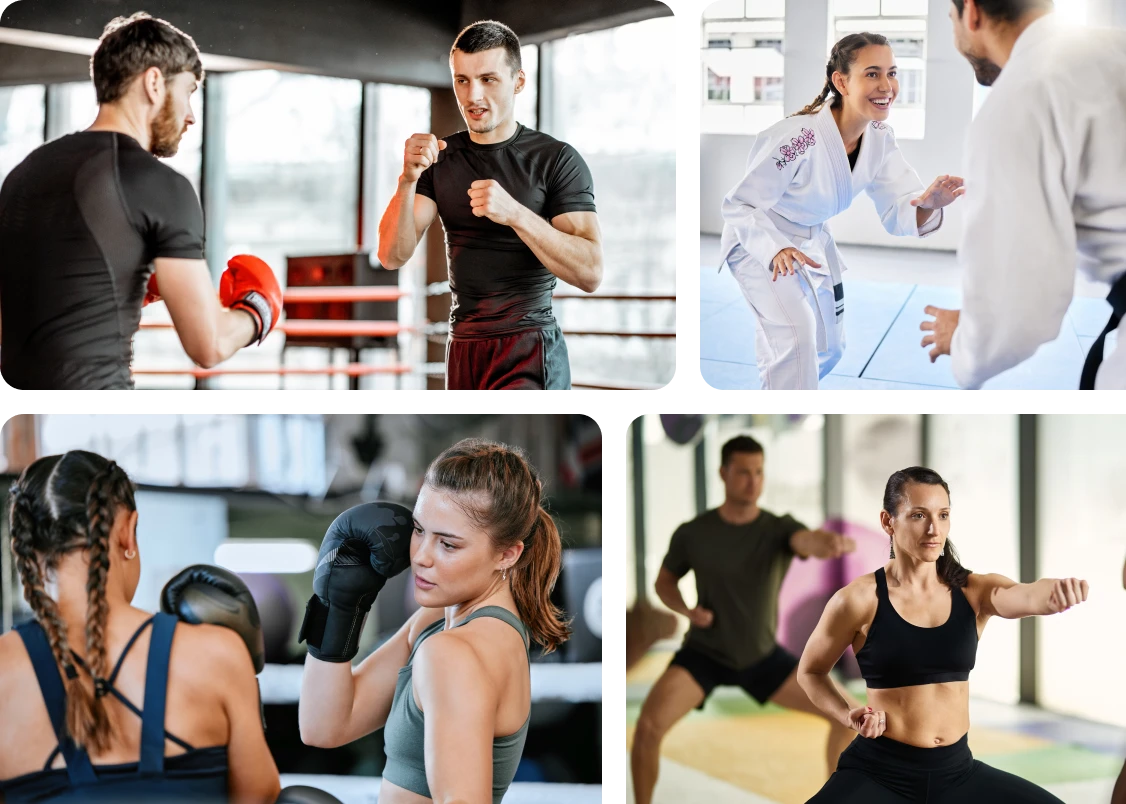 Manage your studio memberships efficiently
Manage your martial arts studio membership profiles and data on a single platform. Automate membership renewals and update memberships or packages with a few clicks—track members' services, invoices, and payments with Wellyx membership management. Create and customize forms for the membership sign-up stage, making forms mandatory or skippable by the member.
Booking & scheduling made easy
Wellyx booking and scheduling work as the backbone of your martial arts studio. It helps you take bookings and schedule them according to the staff's availability. Members are notified when their booking is confirmed. It improves the member experience and makes your business operations efficient and productive. Moreover, you can set cancellation and no-show policies to reduce the hurdles for smooth business operations. Configure and customize business hours, intervals, and reminders for the staff as well as the members.
Simplified & reliable billing
Wellyx offers a simplified and reliable billing system for your martial arts studio that makes payments and billing a breeze and keeps track of all the invoices and sales of your studio. It results in a smooth payments and billing workflow that keeps the cash coming into your business. It provides the ease of making payments with debit, credit, or direct debit. Moreover, there is an option at the checkout with split payments or partial payments for your members.
Let Wellyx handle access control of your studio
Ensure a safe and secure studio environment with Wellyx access control system. Providing a 24/7 access for your members and staff. It offers multiple access methods that you can choose to install at your studio. Wellyx access control is compatible with most of the doors and turnstiles. Moreover, offline mode of check in system ensure that the access control works even without the internet. Wellyx offers the access control using biometrics, key cards, key fobs and secret codes.
Empowering fitness business owners
Read how some of our customers have integrated the Wellyx platform into their amazing businesses
"The Wellyx support team is always available for assisting. Everytime we call or email you guys are always available."
"Since the beginning you guys are very supportive, adaptive and very responsive."
"We have loved working with Wellyx and have found the support team very useful and Rebecca has always been on hand to help with any issues we have had. 😊"
"You guys are always great and I agree that you value our thoughts and opinions (unlike our previous software company), which is important.  :)"
"Whenever we encountered backend issues, the team promptly assisted us in resolving them. The user interface (UI) of the system is visually appealing and well-designed. Additionally, the support team is incredibly fast in addressing and resolving any issues that arise."
"The platform took me some time to learn but it is pretty user friendly."
Ready to upgrade to a top rated award winning software?
Get a personalized demo to see how we align with your business needs.

Here's what you can expect in the demo:
*Maximize your revenue by 63%
Do you have any questions?
Our support system is round-the-clock! Our 24/7 team is ready to assist, ensuring your questions are answered promptly for seamless customer satisfaction.