The spa and salon industry is a juggernaut that gathers momentum year after year; this multimillion-pound industry places its success on its ability to interact with new customers online. A dedicated mobile app for your business can help you get more clients, empowers you to reap the benefits of repeat business, and build up a solid customer base. A mobile app is the easiest way to connect with clients and allows for the opening of new marketing channels. You can drive more business to your spa or salon through the advantages of a mobile application. 
Reserve Revenue
A mobile app allows new and current customers to reserve treatments and services within your business. The app makes booking and paying for treatments and hair appointments much smoother and more straightforward. The app also helps save your staff time on the phone, using pen and paper to mark in the diary. It reduces human error, mistakes, and confusion and gives the customer an appointment that is convenient and suited to them.
The app provides reminders to clients to reduce 'no-shows' and allows them to cancel and re-sell that appointment. Furthermore, having a mobile app boosts your ability to repeat work or enables customers to book multiple appointments weeks in advance. This is the perfect soliton to compete for online users and prospective clients who are hesitant to call.
Loyal Business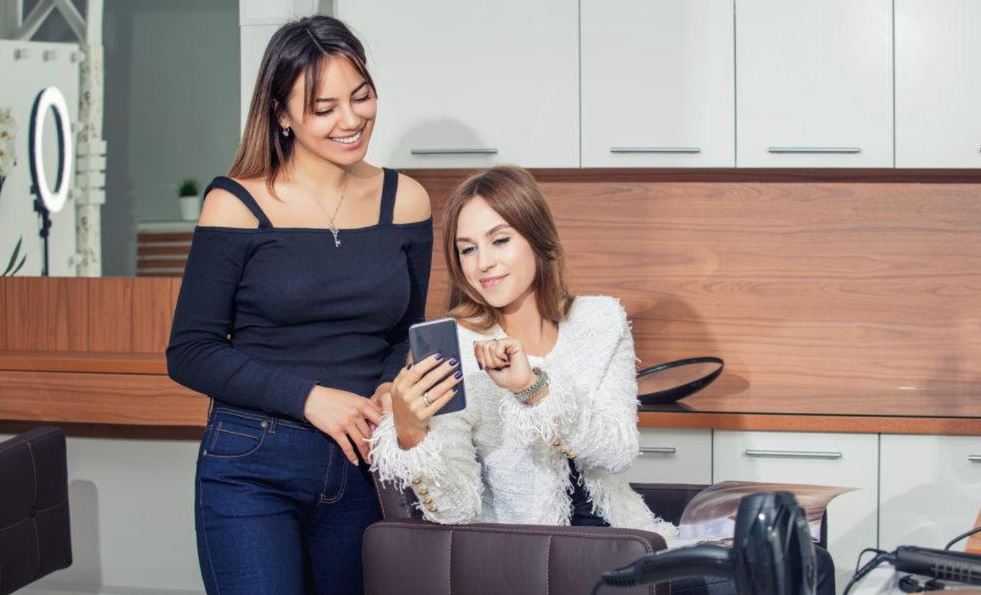 A mobile app for your business in the spa and salon industry is a great way to build up a loyal customer base and drive new ones through your doors. By booking appointments and treatment slots through your app, you can offer discounts and promotions, use the 2-for-1 opportunity and fill canceled appointments a discounted rates. If you want to boost your business further, your app can offer a 5+1 feature that rewards your customers for their loyalty by providing a free treatment or service on their 6th visit to your business.
Remember your business ethos and the direction your business is going; the app and loyalty scheme must reflect that. The loyalty scheme through your mobile app is a long-term strategy to build a more robust clientele and increase profit; this will come with time and patience.
Libraries of Interest
Specifically for spa and salon businesses, a mobile app can support your business to uphold a modern, on-trend, and ever-changing library of style, treatments, looks, celebrity look-a-likes, and so forth. Business can be driven upwards if your customers have the opportunity to browse through your app library of the type of services you offer, but also what the current trending market is doing. When potential customers spot their favorite celebrity with a new haircut or treatment, this is what's expected on their next visit to your business.
Allow your business to duplicate the look, the style, and the 'celebrity lifestyle' by having an app that is always automatically up-to-date and on-trend. This includes opportunities such as 'haircut of the week' where you can offer a promotion for a specific trending style or look, inspire your clients, and encourage them to come in and try something new; the app can even let your client place their face of the haircut first, before booking an appointment. This is fun and exciting and can add a massive boost to sales.
Improve the Reach of the Business
Get Everything You Need to Manage Your Salon.
Wellyx is an all-in-one solution to manage clients and staff. You are free to monitor all the activities of the salon through the app.
Manage staff online
Handle clients online
Automate communication
Manage appointments online
BOOK A DEMO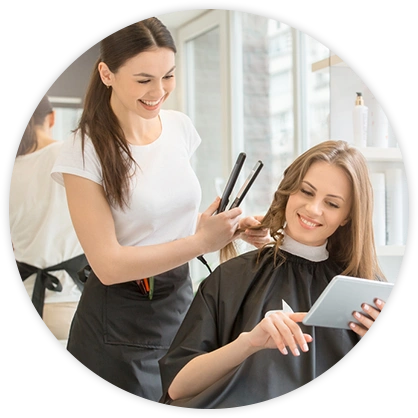 A mobile app can help you connect with more people before they even step into marketing for the spa. Take a look at how most people discover apps. Your salon can gain more exposure through the app and play stores since people browse these stores daily to fulfill their basic needs. Consider your current customer acquisition strategy. The strategy may include getting customers to join an advertised spa through the website.
Here, integrating the salon app with other social media platforms is an effective practice to bring more customers. A customer walks through your different social media pages and seems interested in what you offer. Giving them a salon tour or relying on your staff to pitch a valuable offer to these interested customers may be possible. Your team may turn people away if they are not adequately trained and something goes wrong during the tour.
Push Reminders
Every salon and spa needs an app that features reminders. 'Push' notifications and reminders are crucial in appointments and bookings day or weaklings. Through this critical feature, you can send your existing clients reminders of their regular meetings. The app allows you to secure more grants that may help you boost your yearly revenue.
Polite reminders remind your customer base and potential clients that 'Christmas is coming; for example, 'tis the season of Christmas parties when people need their hair cut, new styles, a relaxing treatment, a new fake tan, and so forth.
The app can continuously deliver reminders and notifications to your customers that your business is there for them all year round. With special promotions and offers, you can automatically keep a stream of new companies contacting you and buying your services.