You may have noticed that the business world is more competitive than ever. No matter what field you work in, competition is fierce. You must stand out to find customers and earn money. In the beauty industry, this is the most original. Beauty salons and spas must have a visual impact to express your brand, attract good customers and stand out from the competition. People have less time to get to know you in this world of social media and happy scrolling. Instead, they need to "instantly" understand your identity and values.
What is a Brand?
Every salon and spa needs to understand its brand before handling it. Of course, it is not just the logo on the business card or banner in the living room. This identity distinguishes your business from competitors and is your business's commitment to clients and potential customers. In short, the brand is the essence and soul of the company. When we think of McDonald's, Coca-Cola, Google, or Apple, the first thing that comes to mind is the Apple brand logo, the MacDonald's logo, or the red Coca-Cola brand; we'll feel that brand.
After all, brands are more than labels and logos. Every brand and every marketing creates emotions and emotional experiences. You can make your salon or spa brand identity strong with the help of Salon Software. Getting the best software also helps you in marketing. Now, this also applies to your spa or salon!
Your brand is reflected in:
How to communicate with customers
The method that allows them to schedule meetings
Your style of writing and speaking
Your name and logo
Your colors and fonts
Your presence on social networks
Using bright colors in the logo or writing something creative and fun does not enough to make your brand strong. Your behavior will make you a strong brand. For example, teleconferencing is a thing of the past. If you continue to do so, your potential customers will treat you as the wrong brand.
Customers will consider your brand strongly if you use Salon Planning Software like Wellyx to schedule daily meetings. Your behavior is like a company open to new ideas, technologies, and changes. As they say, "Work is better than rhetoric." You must work hard to create this character if you want to think of your customers as a strong brand.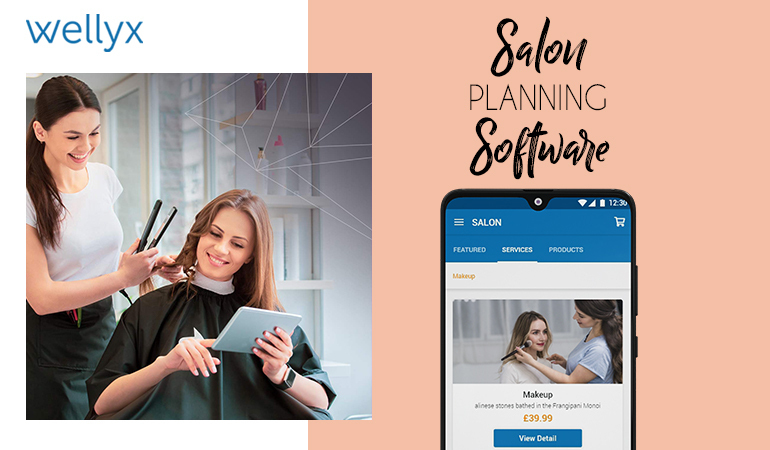 Why Having a Strong Brand Necessary for You?
Competition in different industries is more intense than ever. You can only claim based on your brand. Your brand image allows you to define your ideal customers. It can help you find the right person for your brand value. By creating a brand image and marketing your spa and salon, you can get a positive view of your business and influence the decision of clients to visit your spa and salon.
The secret to building an extraordinary brand is defining the brand's message. Determine how to contact the target audience and business-related contacts. To create the most well-known and comparable brands, you need to tell potential customers they are different. Your marketing communications must be alive to attract customers and put your brand in the client's mind. Give your customers time to focus on themselves.
How to Develop a Strong Brand Identity?
1. Know Who You Are
Before you know the specific factors that will affect your salon brand image, you need to know who you are.
As a brand, who you are, contains the following essential elements:
Your mission ("Why"?)
Your values ​​ (What beliefs drive your business?)
Your brand personality (What kind of character are you?)
Your unique situation (How do you stand out from the competition?)
Your brand voice (How will you communicate?)
These elements define your brand and help you strengthen your spa and salon brand. Before you start creating your spa or salon brand image, make sure you understand it. If you don't know who you are, don't worry. Sometimes, you need a simple brainstorm to show your identity as a brand.
Ask yourself:
Why did we start a spa or salon business?
As a company, what are the beliefs and values ​​that concern us?
Are we better than others?
What makes us different?
If we use three words to describe our brand, what would they be?
What three words do we want our customers to use to describe us?
Once you know who you are, you must create an image that will refresh your salon brand and show you the most important person: the customer.
Get Everything You Need to Manage Your Salon.
Wellyx is an all-in-one solution to manage clients and staff. You are free to monitor all the activities of the salon through the app.
Manage staff online
Handle clients online
Automate communication
Manage appointments online
BOOK A DEMO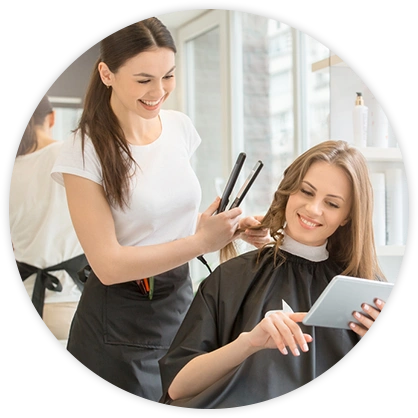 2. Create Your Brand Design Assets:
Just as Adidas has created its image as the best athlete, your design defines your spa's branding image. Enterprise advantage is the tangible element that makeup brand awareness. Things like logos, packaging, website design, social media graphics, business cards, and uniforms that employees in spas and salon wear. In other words, define your design and brand image, build a successful company and faithfully reflect your brand identity.
So, you need to define the design of your brand and build a strong brand image to bring your spa and salon to the next level. You should use business management software to maintain personal relations with your clients through push notifications and messages.
Brand Design Development:
Before creating design assets, start from scratch to create the basis of the design structure – the basis of brand identity.
The building blocks that must be defined before creating the design elements are:
Typography:
Typography – you may have guessed – refers to the font (or type) you choose for the brand material. It is essential to choose logos and brand fonts carefully. There are four primary patterns:
Serif fonts (such as Times New Roman or Garamond) have anchor points at the end of each letter (lowercase letters, for some people). If you want your brand to look reliable, traditional, and outdated, this classic style is a perfect choice.
Sans Serif fonts (such as Helvetica or Franklin Gothic) are soft letters. The brand's Sans serif font provides a more elegant and modern look.
Italic text layout (so far, all Italian courses in elementary school!). These lines (like Allura or Pacifico) can bring your brand a luxurious or feminine way.
The screen font is unique. Each screen font contains a particular element, be it letters, charts, shadows, or unusual shapes with artistic/hand-drawn edges (please consider Metallica Flashing Line).
It perfectly illustrates the style you choose for your brand. Therefore, please choose the font carefully.
Color:
Next is the color. People, including your prospects, have psychological contact with different colors, and the strategic use of brand and logo colors can seriously affect the audience's perception of your brand.
Rainbow colors (as well as some other colors) can support your brand identity as follows:
Red: Red is the color of passion and excitement. This is an ideal choice if your spa brand image is vital, young, and sexy.
Orange is another vibrant color, perfect if you want to be friendly and fun. It is used less red, so it stands out from the crowd.
Yellow: Yellow is the color of the sun, depending on luck. The pleasant atmosphere makes it a good choice if you want to feel an attractive, comfortable, and affordable atmosphere.
Green: When people see green, they think of money or nature. Green is an especially good option if your salon brand is associated with any of the above.
Blue: Blue is the most attractive color in the spectrum and can help your brand image be more stable and reliable. So, if you want to target a large audience, choose blue.
Pink: Good or bad, pink is culturally associated with femininity. Therefore, if your brand is a women's brand, pink should be a clear contender for your brand's color. It is also a beautiful color for brands with soft or luxury logos.
Black: If you want to be modern or refined, there is nothing more classic and effective than black.
Form and Shape:
When it comes to creation, you also need to think about shape. You can use this precise and effective ingredient to improve the customer's required response: for example, a logo consisting of only round and smooth edges will produce a reaction that is entirely different from a tapered and square logo.
Here's how to shape the different shapes of your brand image (intended for puns):
Circles (such as circles, ellipses, and ovals) focus on warmth and softness. Manufactured products can create a feeling of community, solidarity, and love. Rounded edges can also be considered feminine.
Straight lines (like squares, rectangles, and triangles) remind people of power and efficiency. Clothes can't create a stable and reliable feeling, but you must be careful: if characters aren't balanced with exciting things (like dynamic colors), you'll feel unwanted and unable to communicate with customers.
The straight line also has its effect: the vertical line represents masculinity and strength, while the horizontal line represents a calm and soft atmosphere.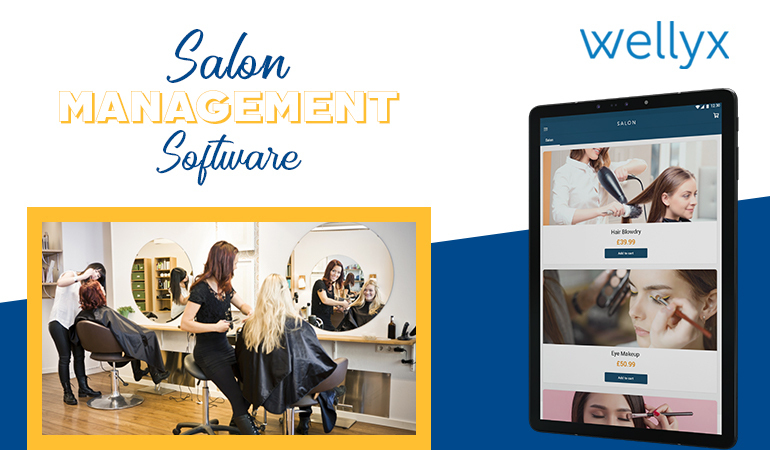 3. Designing Your Brand Identity:
Once you understand the essential design elements, you should work with designers to bring your brand image to life and transform your brand into specific design assets that can be used for marketing. Your brand image can be expressed in different elements. Depending on your business, one or more assets may be necessary. For example, a restaurant must consider the menu and the actual space. However, digital marketing agencies should focus more on their websites and social media.
Common elements of brand identity are:
Logo Design
Logo design is the cornerstone of the brand image. When working with designers, you want the logo to tag the following fields:
Clearly define your identity and value of the spa and salon.
Optical attraction: simple, clean, and transparent can go a long way;
This is classic and not fashionable: the last thing you want is to make the logo.
Persuade the audience.
You also want to ensure that your design partner can provide multiple sizes of logos (for example, black and white or multiple sizes) so that you always have the logo you need – every logo that matches your spa and salon identity.
Website
Your website is one of the most representative aspects of a brand's image. Especially if you run a spa or salon, customers will check your site before they decide to come to your spa or salon. Your brand image must be fully reflected on your website.
Business Card
To do business development, you must fill out a business card. Well-designed cards allow you to enhance your positive evaluation in the eyes of your clients or potential customers. When designing cards for your spa and salon, try to keep them simple: one side of the card is the spa or salon logo, and the other side is the most important personal information is enough.
Mail Design
Email is a great way to attract customers and do business. However, most people are exhausted. Therefore, if you want to grow your spa and salon business via email, you need an appropriate design strategy for excellence. Consider the purpose of the email. Do you want to create a personal contact? Then make it short, sweet, and straightforward. Try teaching. Then correctly format it for easy reading, scanning, and adding photos to highlight it.
4. Create a Style of Brand:
After receiving the design elements, you must ensure they are used correctly. Therefore, you should create a brand style guide. This document describes the advantages of your designs, when and how to use them, and what you should and should not do for a trademark, ensuring that every future design matches your brand image and presence in public produced good knowledge.
Consistency is the key to building a solid brand image. You don't want the brand on social media to be completely different from your website. This can confuse customers and make your brand less reliable and professional. Therefore, always follow brand guidelines that cover all the different elements of brand identity. This way, you can build brand awareness and brand loyalty in the long run.
5. Escalate the Awareness of your Brand
When you understand the essential components of creating a solid salon brand, take your steps to go through the different practices. We know everything begins with the mission statement, so start there. Write down your "what," "how," and "why." on the piece of paper. Brainstorm & innovate your ideas of taking the brand to a niche market and take notes. Then you can polish it into a unified precise purpose statement that will support the other seven pillars. You'll be well on your way to building a robust, successful brand!
Conclusion:
Your branding image distinguishes you from endless competitors, showing your customers who you are and what they expect from you. And if you want your brand to thrive, it is essential to define your brand identity and create a design that accurately represents your spa and salon image. Now that you know how to capture this identity, it's time to start designing and making a solid brand identity for the salon and spa.